We answer all your questions and give you all our advice about how to look after your clothes
To wash,
or not to wash
that is the question
Find out how often
to wash your clothes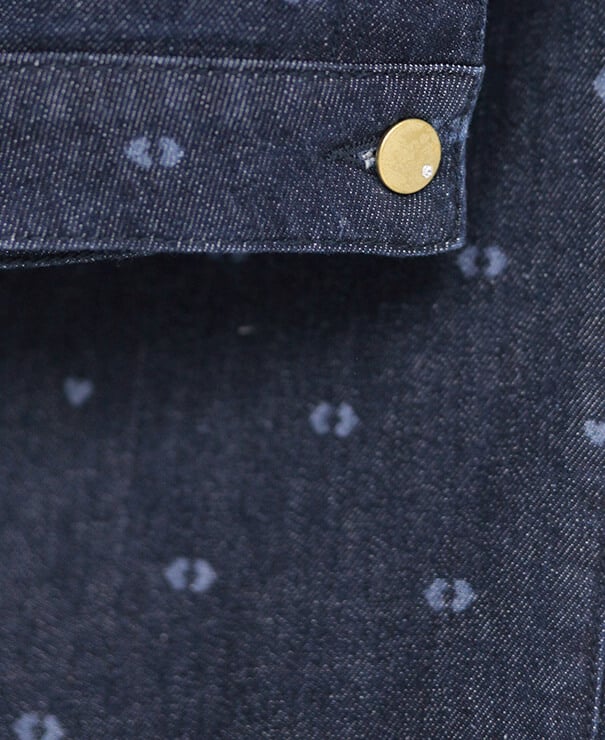 X Close
Did you know?
The French do two loads of laundry a week, or even one every day, which uses 15 kg of laundry detergent per year and per home on average! Contrary to popular opinion, washing your clothes that often is not advised.
This is because this "bad" habit has an impact on flora and fauna, as almost 13,000 tonnes of harmful microfibres are washed away with waste water each year; and washing a lot damages clothes that are then thrown away adding to pollution! Before doing any load of laundry, think about using the right temperature and amount of laundry detergent (to avoid wastage and make your clothes last longer).
Which laundry detergent should you use?
To be eco-friendly, choose not to use laundry pods and tablets, which are more expensive and have packaging that creates more pollution. Choose laundry detergents that are more concentrated: powder ones are very effective against stains but make colours dull fast; liquid ones preserve colours but have preservatives in them that should be avoided if you have allergies.
how often should I wash them?
Wash clothes according to how often you wear them.

amount of times wearing them before washing

worn against the skin

all pairs of trousers except denim

worn over another piece of clothing

tight-fitting skirts


flowing skirts

wash once per season
COMMUTE
WORK
PICTOGRAMS
Understanding
the laundry label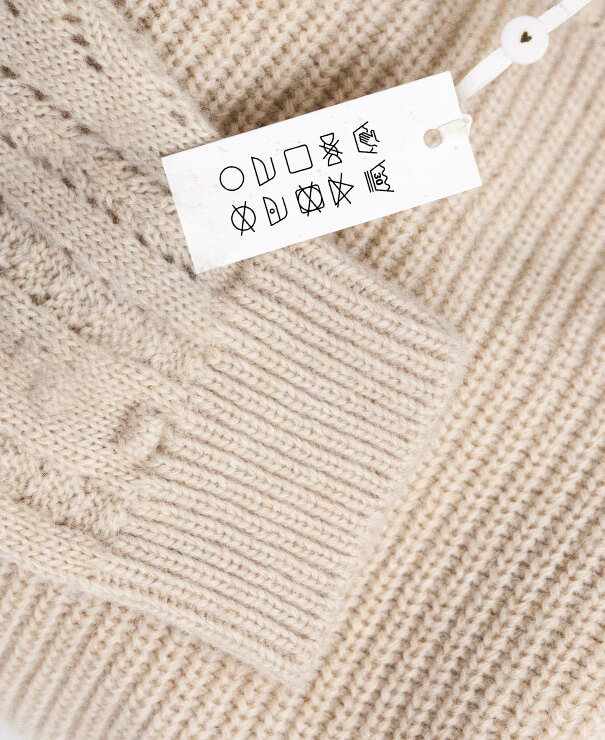 X Close
step 1. sort
It is important that you don't mix certain types of clothes (e.g. jeans) and colours
(white should be washed with whites only otherwise it risks losing its brightness).
step 2. understand the label for the right care
Read the label in your garment to see which temperature to wash it at and the right washing method if it needs special care, in which case you should check the pictograms given.
washing

normal wash cycle

hand wash
medium agitation wash cycle

Maximum T°

delicate wash cycle

do not wash
whitening

normal wash cycle

normal wash cycle

normal wash cycle
drying

moderate heat

any temperature

do not tumble dry
ironing

do not iron

low max 110°C

medium max 150°C

high max 200°C
dry
cleaning

care with
mineral solvents

care with
organic solvents

medium agitation wash cycle

very restrained agitation wash cycle

do not dry clean
All dried
up?
Our drying tips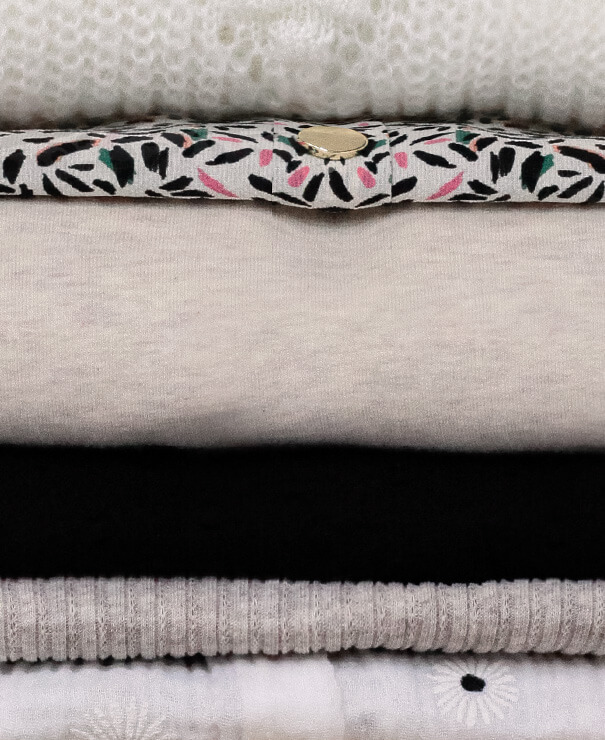 X Close
how do you dry your clothes?
To dry your clothes without affecting their quality and using too much electricity, do not tumble dry and use clothes airers or washing lines instead.
1.
Shake out your garment before hanging it out to relax creases.
2.
Delicate garments should be dried flat. For other clothes, choose plastic clothes pegs or coat hangers: you'll save time ironing!
a little tip!
Tops and shirts should be hung on coat hangers and done up so they don't lose their shape and to make getting creases out easier.
how should you iron?
Read the labels first of all! And follow exactly what the indications say, because each garment's fabric and category needs a specific technique.
Embroidery and lace
: heat damages these delicate fabrics, they should not be in direct contact with the iron. Our advice: turn them inside out and cover them with a damp cloth before ironing them.
Jeans
: iron them inside out with the zip done up, pressing on the iron. To avoid getting creases, wash them inside out too and shake them well when they are damp before hanging them out.
Tops and Shirts
: when ironing them, start with the collar then continue down the front and back.
The shirt
you can't get creases
out of nightmare?
Not seen that one much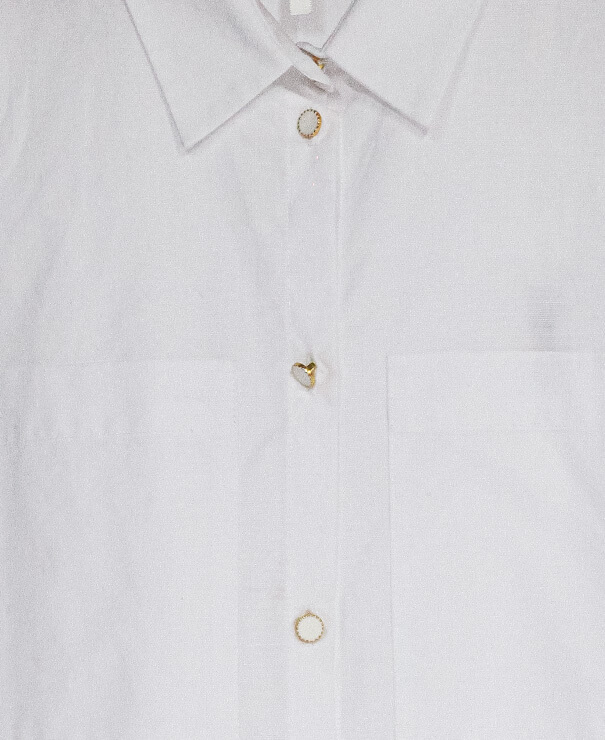 X Close
My poplin shirt creases, what can I do?
Poplin feels silky satin-like to the touch due to its very dense, tight weave.
It can be made in various fabrics: cotton, wool, silk, viscose…
Like cotton, it's a resistant fabric that's easy to care for.
At I.CODE, we use cotton poplin that doesn't lose its shape,
nor pills but which creases all the same.
As for all shirts, poplin can be machine-washed at 30°C.
It must then be hung up on a coat hanger and air dried, then ironed with the iron set to the minimum temperature.
Poplin that is well cared for and ironed is the guaranteed it will look elegant and supple!
Look out
for pilling
Bobbles don't suit you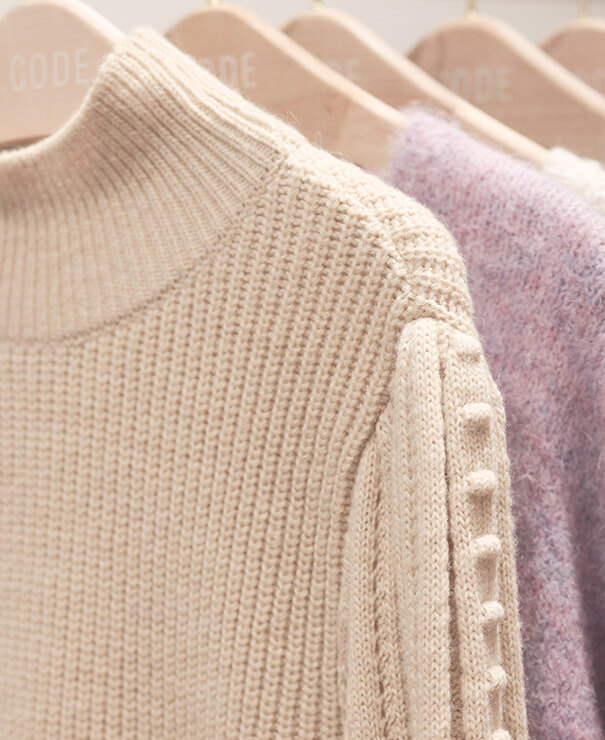 X Close
My sweater is pilling, what should I do?
As your sweater (or any other knit garment or accessory) is a blend of different-sized fibres, when the fabric is rubbed the shortest fibres are brought out. In turn they get tangled together and form little bobbles, called "pilling".
Tips for stopping pilling:
- Wash your clothes regularly: the fibres get harder and won't get tangled as much.
- Don't overload your washing machine so your clothes don't rub as much.
- Turn your sweater inside out before washing it and use washing detergent with "clean" ingredients.
- Put your sweater in the freezer for one to two hours to set the fibres and stop the shorter ones from tangling.
There are several options for getting rid of them:
- Special razors
- A headlice comb takes off pilling faster than razors.
Be careful not to go too fast by pulling on the fabric as that will cut the threads and make them shorter, which means that pilling will build up again.
Say bye bye
to static
electricity
A bit like an annoying ex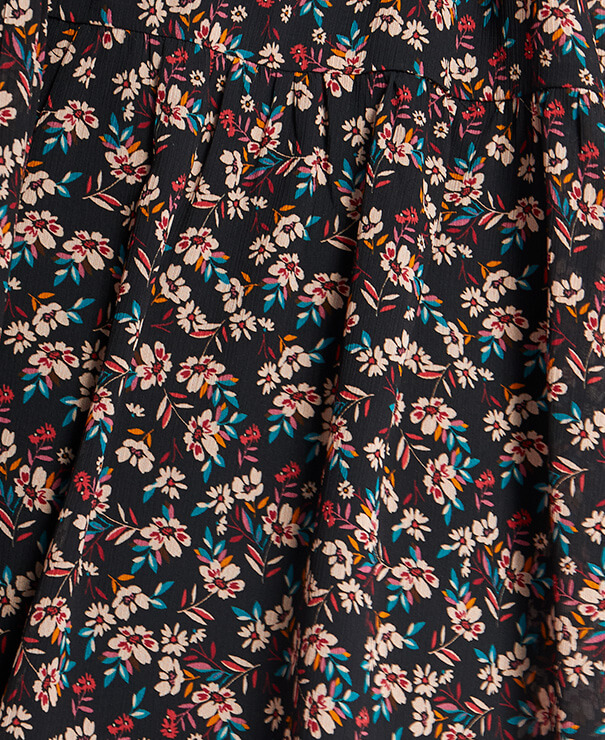 X Close
How do you stop your clothes from building up static electricity?
The unpleasant feeling of a skirt that's stuck to your legs or your hair that stands on end when you take your wool sweater off is due to static electricity. Electrons are attracted by an atom, separate and turn towards another atom. Wool or synthetic clothes get static electricity the most.
our tips:
- Rub an anti-static sheet over your clothes
- Spray hairspray on the outside of the garment
- Spray water over the garment or rub the its electrostatic parts with a damp washcloth
- Or even easier, moisturise your legs with a cream
Aim for
an A
Our fabric
care lexicon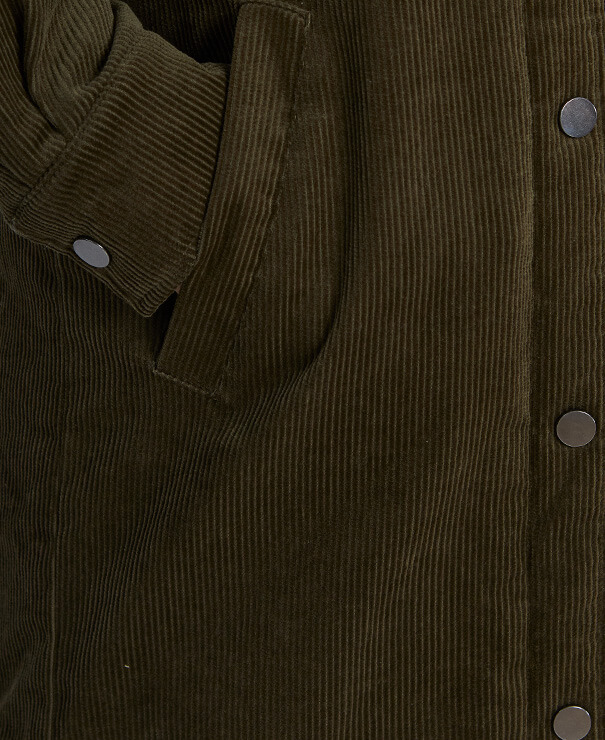 X Close
our fabric care lexicon
Linen
This fine, natural and highly resistant fabric does not lose its shape over time. After washing it at 30°C, do not tumble dry it, but choose to air dry, out of the sun. Iron your linen garments inside out to avoid having marks and false pleats.
Wool
This warm, insulating fabric must be given careful treatment. The wash cycle should be short and the temperature should not exceed 30°C, otherwise there's a risk your garment may shrink. Make sure you use a mild washing detergent so you don't damage the fibres. As wool is delicate, we recommend you use a damp cloth between the the fabric and the iron, set on a low temperature.
Wool sweaters & cardigans: choose to wash them inside out (to avoid pilling), on a temperature that's not too hot nor too cold, on the delicate programme. Air dry them: don't tumble dry them, which is likely to make them shrink.
Cotton
Cotton is a natural, resistant fabric. A coloured garment must be washed alone for the first time (at 40°C) so that it doesn't run and colour the others. It then needs to be ironed on a high temperature (between 180°C and 200°C), inside out if the fabric is dark, so that it doesn't get shiny.
T-shirts: they are often in cotton, and must be machine-washed inside out at 30°C, then hung up by the hem, at the seams (to avoid making marks and them losing shape). Don't let them near the tumble dryer! Printed T-shirts must be ironed inside out.
Viscose
Like cotton, viscose is breathable and soft, but delicate: this is why it is preferable to wash it by hand in cold water; or machine wash it on the delicate cycle at 30°C max. It must then be ironed damp on a low temperature for the best results. Be careful not to pull damp viscose however, as it might rip.
Polyester
Polyester is a resistant fibre that almost never creases. It's not very breathable, so it retains odours, meaning it needs to be washed more often (at 40°C maximum with other synthetic fabrics, or by hand for those who have the energy!). As it's pretty elastic and dries very fast, it doesn't usually need to be ironed (or on a low temperature, on the back of the fabric; at 150°C, if it's a blend).
Nylon
Nylon is more resistant than polyester and is a stretchy fabric that can be machine-washed but on a low temperature. It's non-absorbent and dries very fast, but it mustn't be ironed or it risks melting!
Velvet
Velvet can be machine- or hand-washed (inside out and less than 30°C). After having quickly taken it out of the machine, lay it out flat or on a coat hanger, in a cool place so that it keeps its brightness. Once it is dry, use a hot steam iron to get creases out of the fabric.
Acrylic
Acrylic can be machine- or hand-washed in warm water (40°C). Little tip: add fabric conditioner when washing to keep static electricity at bay. Once it has been washed, running it through the spin cycle is not recommended as it damages the fibres: press it in a towel instead to absorb water, and hang it out, damp, to air-dry it (and even flat for sweaters). As for delicate fabrics, acrylic clothes must be ironed inside out and the iron (not on the steam setting) should not be too hot.
Denim
Wash jeans as little as possible, the fabric is damaged each time it is washed. Choose to wash them on a low temperature not using much washing detergent. Then hang your jeans out inside out to air-dry.
no need
for origami
Resetting the crease in a pair of trousers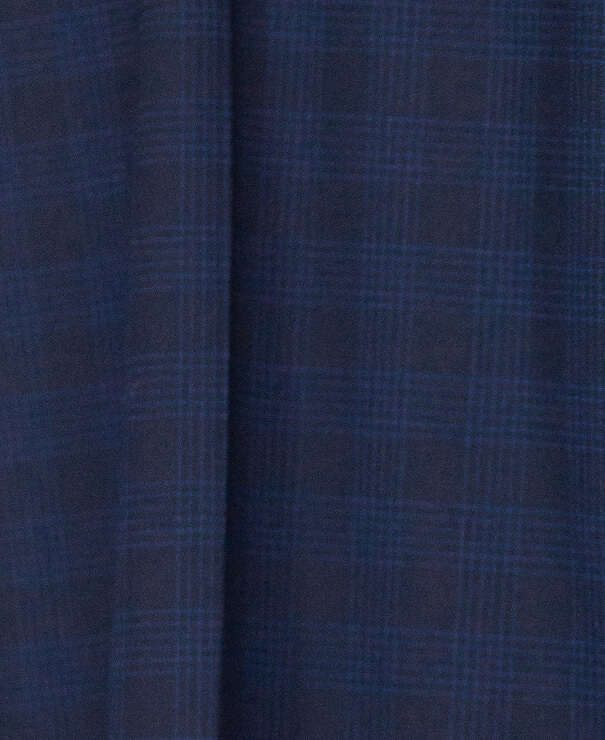 X Close
How to reset the crease in a pair of trousers?
Follow these steps to mark the creases in a pair of trousers after washing them:
1.
After having washed and dried your trousers, lay them out on the ironing board
2.
Lay one leg over the other, making sure the seams are in the centre
3.
Iron the leg on top, then the one underneath, making sure you don't ruck the fabric
Tip
: if your trousers are dark or made in a delicate fabric (wool, linen, silk…), iron them with a damp cloth between the fabric and the iron
Never be a blot
on the landscape
Find the perfect
stain remover
X Close
Find the perfect stain remover according to the stain
To protect your clothes and keep them for longer, you have to get rid of stains, even the most stubborn! Luckily there are lots of tips that mean you can find the right stain remover for all kinds of stains. The I.Code team has 6 old-fashioned recipes for you:
Removing stains from leather
Use a cotton bud to test a stain remover (preferably eco-friendly) on part of the leather that can't be seen to be sure that it won't leave a mark. If the stain remover changes your garment's colour, it is not suitable for it! Then soak a cotton or white cloth in some of this stain remover and dab it very gently on the area to be cleaned, without rubbing it.
Be careful as the method isn't the same for nubuck or suede! In this case you need a soft brush, a special nubuck or suede cleaning spray as well as a cleaning rubber. You have to gently brush the area to clean after applying the spray. The rubber will be used for finishing and more stubborn stains.
To care for leather and keep it shiny every day, we recommend you use a colourless wax or cleaning milk regularly!
Getting rid of a red wine stain
The most well-known tip is to start dabbing the stain with a clean cloth or piece of kitchen roll to dry it, then to quickly rinse it in cold water.
You can also try the technique with a tablespoonful of (eco-friendly) liquid washing detergent or washing up liquid in a container of cold water to pour on the stain. Leave the garment for an hour then machine wash it on the delicate cycle at 30°C.
We don't recommend using the well-known trick of using salt, as this risks making the stain set in and even more difficult to get out!
Getting rid of a grass stain
To get rid of a grass stain, you can soak it in cold water then use a toothbrush to rub on eco-friendly stain remover or white vinegar.
If a grass stain on a light-coloured garment is still there, you can try another method: use toothpaste and a bleaching agent then leave it on the stain for an hour. Finish by rinsing it in warm water.
Cleaning an oil and grease stain
Before putting anything on the stain, make sure you use a clean cloth or absorbent paper towel to blot the grease and oil to absorb it. Then you can use a tablespoonful of liquid detergent or washing up liquid in hot water to wash the stain before machine-washing it. You can also use bicarbonate of soda if the stain is still there.
Removing a make-up stain
The first thing to do is to use make-up remover to try to get rid of the stain, as a wipe or a milk/lotion. It the stain is still there, there's the shaving gel / cream trick! Leave it on the stain for 5 min before rubbing it, then rinse with water.
Getting rid of a blood stain
The best trick for getting rid of a blood stain is to soak it in cold water for an hour, then wring it out before machine-washing the garment on a programme at 30°C. You should never use hot water on it as it risks making the stain set in and even more difficult to clean!